Tree House Cabins
Set amid the treetops of our lush jungle, Find yourself in our corner bathtub, flowing with foam. Relaxing to the sounds of nature and experience hidden views.
Sleeps:          2 (Double Bed)
Bathroom:     Private
Glass Cabins
"Elevator to the sky" would be a more accurate description of the unique experience of these rooms. If you prefer to have your feet on the ground, stay in the ground unit! For a full ride, book the glass tree house, where you are sure to spot a vervet monkey with the panoramic view.
Sleeps:          2 (Double Bed)
Bathroom:     Private
Private En-Suites
Enjoy a night in one of our secluded wooden cabins surrounded by tropical trees, chirping birds and occasional tree hopping visitors. These cabins will give you a natural experience leaving you wanting to return.
Sleeps:          2 (Double Bed)
Bathroom:     Private
Private Houses
For the pocket conscious traveler wanting privacy and your basic needs met, lay your heads down in a room surrounded by nature. Take a walk to your shower, you never know… you may just stumble across the most beautiful hibiscus flower you've seen!
Sleeps:          2 (Double Bed)
Bathroom:     Outdoor communial
Group Houses
Traveling with a camera crew? Your supporters? Your in-laws? Or just a group of friends? Book these houses for the ultimate camaraderie. Houses vary in size and location, please be sure to enquire which would suite your groups' needs.
Sleeps:          6-12 
Bathroom:     Private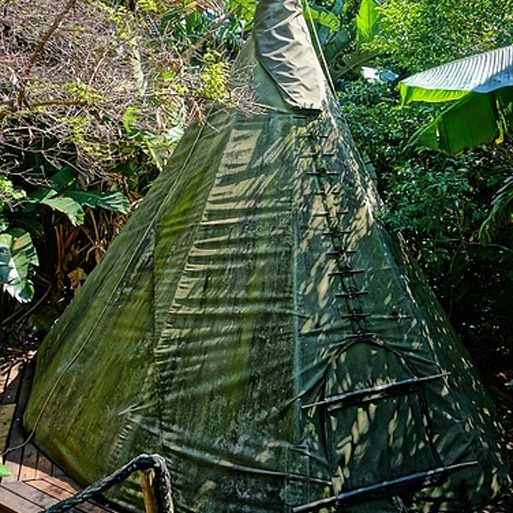 If you're looking for an even more unique experience, how about camping out in a Native American inspired Teepee tent? This is sure to give you a camp-like experience but with a more comfortable feel.
Sleeps:          2 (Double Bed)
Bathroom:     Outdoor communial
Various dormitories available for the ultimate backpacker experience!
Sleeps:          1-8
Bathroom:     Communial
Set amidst the sub tropical paradise of palm trees, wild banana and lush vegetation, Little Mantis boasts majestic 180 degree views of the Indian Ocean. The beach, a two minute drive away, is a blue flagged beach - ideal for surfing, swimming or relaxing in the sun.
Little Mantis is a double story house built of wood and glass, reminding one of travels to eastern exotic places. The house is in a gated community with very secure security.
The main living area upstairs opens up entirely with glass shutter doors onto a patio where one can relax, enjoy a cup of coffee in the morning or a sundowner at sunset.
There are three family rooms all en suite (1 double bed plus 2 singles). Two of the rooms are downstairs and a third is on the upstairs level. The house has DSTV and internet access and the kitchen has a central island and is fully equipped for self catering.